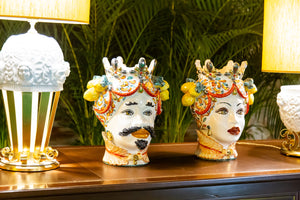 Artistic Pottery
Moro Heads
Buy Now
Artistic Pottery
Moro Heads
Buy Now
Emozioni di Sicilia: Heads of Moro, Pine cones, Bummuli and art of Sicily.
Heads of Moro, decored Pine cones, Bummuli, Pocket emptier and much more, a selection of the best pottery and artistic production inspired by Sicily, which evoke its colors and its joie de vivre.
A Daydream
Sicily is a daydream, a place where you can get excited for the landscape beauties, the excellence of gastronomic products, the refinement of artistic creations. Bring a piece of Sicily home is a way to renew this emotion over time.
EMOZIONI DI SICILIA offers you a selection of ceramics and artistic artefacts that represent the best of quality production; inspired by Sicily, and which stand out for an original design idea, but always adhering to the true spirit of this wonderful land, full of colors, scents and joie de vivre.